Professional Mobile Themes from £9 per month - No Contract

Start your 30 day FREE trial
Don't just take our word for it.
Watch and listen to one of our happy clients...
..or see what other users of Kommand have to say
Advanced features to help your website perform better over your competitors

Flexible Themes
Choose a Theme then make it your own, change the layout and colour to match your needs.

Mobile Responsive
All Kommand Themes are mobile ready. Your visitors and Google will love it.

Social Media and Blog
Connect all of your channels easily and deliver your messages fast.

Simple Fast Editing
Edit anything with Kommand, layouts, colours, pages, banners and adverts with ease.

Secure & Fast Hosting
No need to worry about technical issues, we handle it all for you with fast responsive servers.

Search Engine Friendly
Kommands advanced SEO features help to rank your website high on Google and other search engines.

Power to Grow with You
Kommand Bolt on features mean you only pay for what you use, when you grow kommand does too.

Support
24 /7 Support service to help you with questions and queries about your new website, help when you need it.
Not wanting to do it yourself?
Would you like something more special?
Customised themes built to your exact specification
Introducing web packs...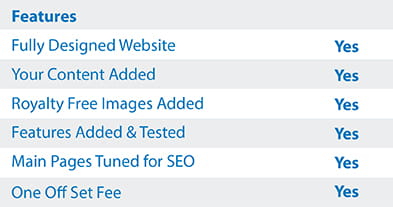 A Powerful Website Platform that will Improve Your Business Performance
Kommand's powerful features will give your business clear advantages over your competitors by delivering results in terms of ranking and conversion from visitors to customers, clients or enquiries. Yes, Kommand.me provides you and your business with a cost effective solution but more importantly it delivers great results. It is constantly being developed with new features made available to all Kommand client websites. We keep the core system up to date with any changes the internet throws at us, keeping your site working and ranking for the important keywords that drive quality clients or leads to you or your business.
We are following best practices for the web to deliver: quality code that the search engines like, W3C standards as our standard benchmark, mobile responsive sites that work in all devices as standard, advanced SEO techniques to allow you to tune every page on your website. Find out how we are different and compare to our competitors.
Watch our video...