How to Use LinkedIn in Your Social Media Strategy
---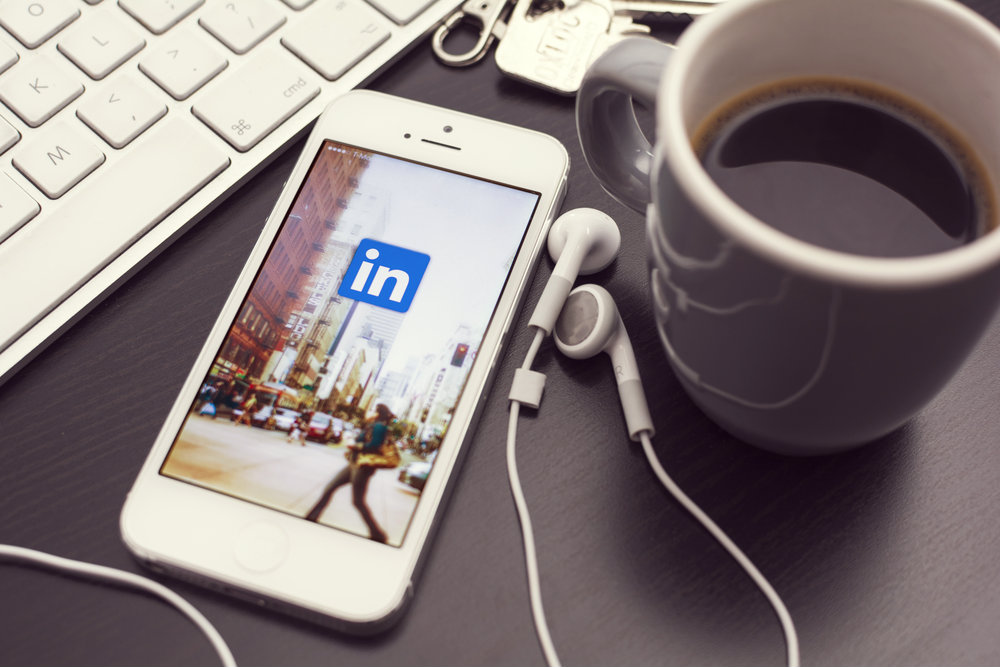 You may not have fully pursued LinkedIn, dismissing it as a fancier, less-fun version of Facebook.
However LinkedIn is much more than an online CV and provides a great tool for your small business to add yet another axle in strengthening your business's social media strategy; improving lead generation and impacting conversion.
LinkedIn Isn't Just for Business Professionals
With over 360 million members LinkedIn has enjoyed exponential growth since its launch in 2003. Available in 24 languages the network has become the world's number one business networking platform and has since developed its services including acquisition of Pulse, the popular web and mobile newsreader in 2013 helping LinkedIn evolve into a professional content platform.
Why Should You Use LinkedIn for Your Business?
LinkedIn can help your business in a number of ways including:
Developing your status as an industry expert.
Providing a professional platform to share company updates.
Providing a way to network with B2B businesses and suppliers.
Providing a way to improve employer branding and your company's recruitment strategy.
Another way to advertise your business online.
Another way to solidify your business's credibility.
Another way to showcase your company's products or services.
In 2012, LinkedIn members conducted over 5.7 billion professionally-oriented searches on the platform. Showing up for these searches can help your business greatly. LinkedIn also has its own ad campaign tool which is debated to be a more effective online ad campaign tool for B2B (business to business) advertising than Facebook ads or Google ads. We'll cover more on LinkedIn ads at the end of this post.
But first, let's get your company profile up and running.
How to Set Up A LinkedIn Company Page
Step 1: Set up your profile(s)
The first step for using LinkedIn for your business is to set up an individual profile. Similar to Facebook you must have an individual account before you are able to create a company page. For some businesses an individual profile may suffice, for instance if you are self-employed. The decision of whether you have a separate page for your business is ultimately yours, however it is recommended you separate your own page from a company page to avoid confusion and ensure your business is in the correct section of the LinkedIn website; 'companies' as opposed to 'people'. This can also help if your business is wishing to recruit through the network in the future.
You should aim to completely fill out your profile, or as best you can.  People often make the mistake of thinking that their professional headline has to be their job title. This is not the case, your headline can be anything you like and it is often a good idea to use it to use it as piece of online real estate. Your professional headline will be the clickbait that people see when they conduct searches. It can also be helpful to use keywords to ensure you show up for relative searches and you should always use a professional profile picture. The process for setting up a LinkedIn profile is straightforward and the website will guide you through the areas you will need to fill out to complete your profile however here are some of the maximum character counts for important areas on LinkedIn: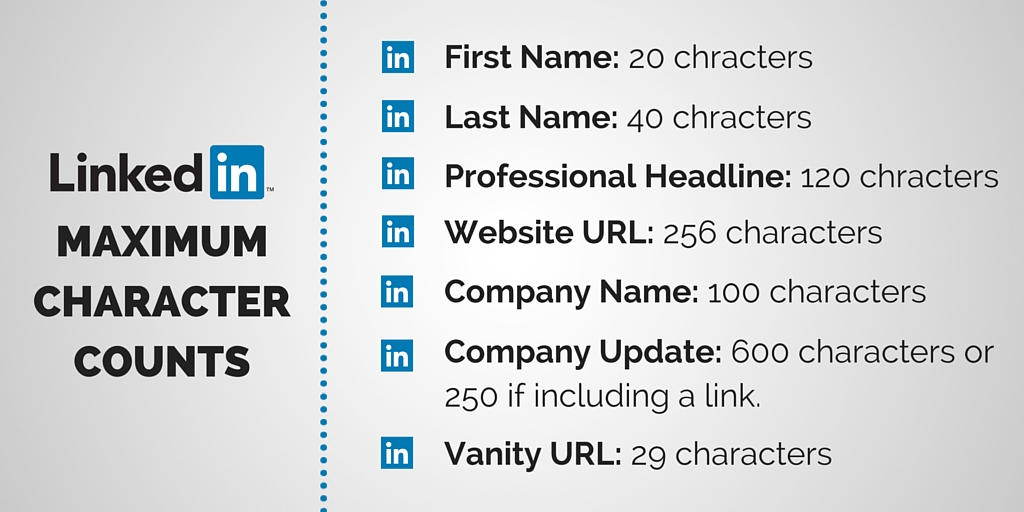 Once you have set up your individual profile you can then set up your company page. To do this you will need to click on Companies from the Interests drop down, and then Create on the right hand panel.

You will then be presented with a page to add the company name and email address.
Step 2: Fill out company information and add images
After you click continue you can begin adding company information including products and services and a summary. You should aim to make your description eye-catching, keyword clever and unique to capture your audience.
Once this is complete you can add your company's logo and banner image. These two areas are very important. Think of your LinkedIn page as another way to sell your business so take time to pick images which are in tune with your business's branding and will make you stand out. Some business's use a shot of inside their office, others use it to promote services. This infographic from Going Social gives you the dimensions you will need for your images. If you are having difficulties you can read this post.
Step 3: Start posting
Once you have filled out your company's profile it is time to start posting. To take full advantage of your company's LinkedIn page you should avoid simply posting vacancies. Instead, you should use the platform to promote blog content, rich media, company updates and news relative to your sector. LinkedIn has moved on from simply being an online CV. Today, LinkedIn members use the platform to stay in touch with businesses and industries and see developments of new product launches.
When writing your company updates, you should aim to always include a clear call to action and where possible include a link or image. Posts with links can drive twice as much engagement, and posts with images or some other form of rich media generally result in a higher engagement rate. Videos can also be a great way of increasing share rate, and videos will play directly in the LinkedIn feed. 
As with all forms of social media you should set out your aims for the channel and set up an editorial calendar to schedule what updates you will post and when. You can also experiment with different balances of entertaining and insightful updates to see which drives shares, likes and discussions. However it is important to remember that LinkedIn is after all a professional network and this should be reflected in your chosen tone. Where possible avoid using the same message on Facebook, Google+ and LinkedIn. Each is unique, you should tailor your message correctly.
Step 4: LinkedIn Ads
Once you are comfortable with LinkedIn and have found the optimal type of updates that appeal to your target market then you may consider using LinkedIn ads. Linkedin ads are described as a "self-service advertising product" similar to Facebook and Google ads. It is an often overlooked form of paid online advertising, however can be a highly target communication method. This is due to the extra information people provide compared with other social media networks giving you the ability to target your market more precisely. 
How to Start a LinkedIn Ads Campaign
CREATE
To create a LinkedIn ad campaign you will need to log into the LinkedIn ads login page and click the "Get Started" button.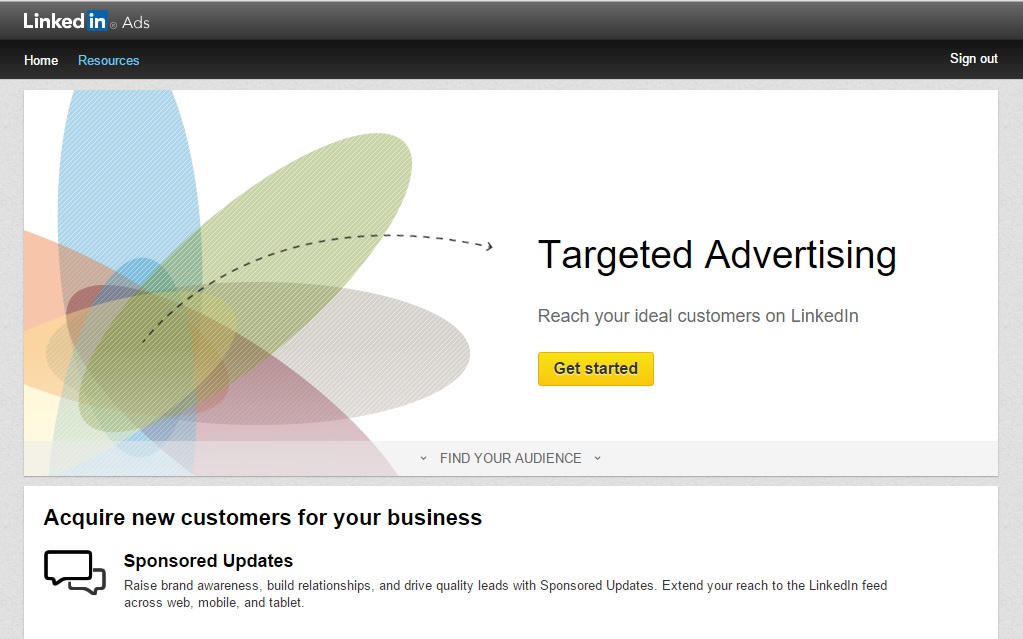 From here you will be give the choice of which type of campaign you would like to create:
1. Create an ad or,
2. Sponsor content.
Click on 'create an ad' and then you will need to fill in the following page: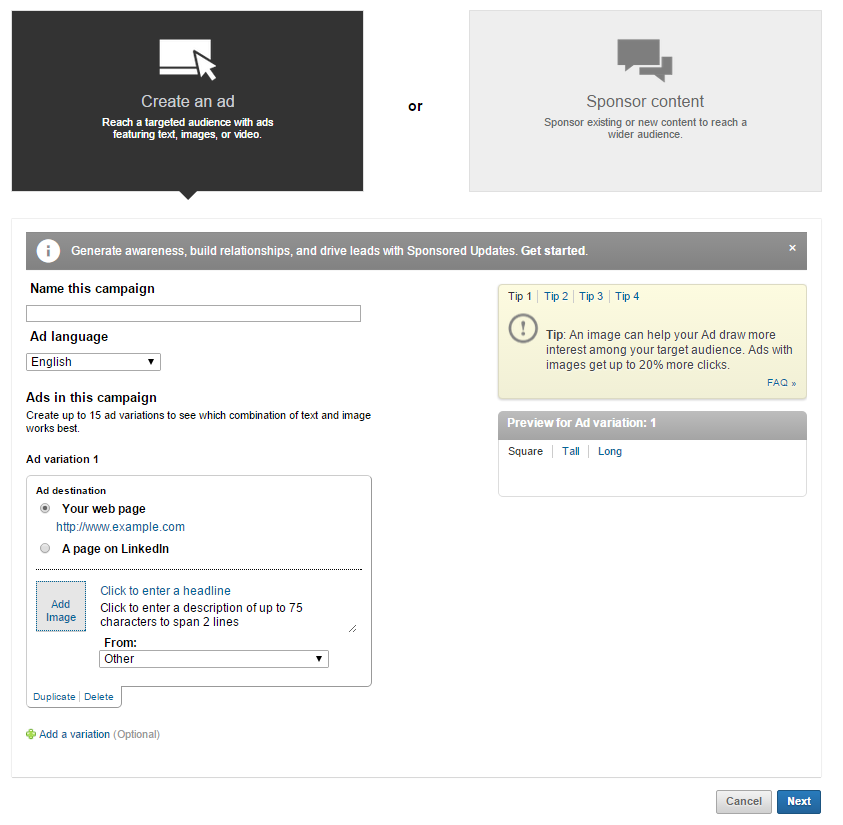 Name this campaign: This is the title of your campaign and should be an eye-catching piece of copy. It can often be effective to use a question in this section.
Language: The preferred language.
Ad destination: Where you want the ad to link to and can be an external page. You should think carefully about where you want the audience to go. It can be effective to link your ad to a relative landing page.
Headline and description: This is the main body of your ad. Be sure to include a clear call to action here.
You can also add an image and if necessary variations to create multiple versions of the ad.
TARGET
The next page you will be presented with is for targeting your ad. The options are similar to Twitter and Facebook (friends, company, age, etc.) however LinkedIn also lets you target people through their job title, industry, skills and interests. The targeting page has a lot of variables that you can adjust to correctly target your chosen market. 
BUDGET
There are two basic pricing models on LinkedIn ads: Cost per click (CPC) and cost per 1,000 impressions (cpm).
LinkedIn: the Alternate Social Media Channel
LinkedIn is a great and often under-utilised social media platform. When used correctly it can offer your business a unique way to target your audience and can help your business build connections and networks which could improve your business processes. 
Whilst LinkedIn ads cost more than Google and Facebook, due to their targeting it could be argued that they provide a better ROI. It has been argued that LinkedIn ads work best for highly targeted campaigns, so you should be aware of this when considering different online advertising methods.
With Kommand website builder you can integrate social media into your website with ease. Our blog function makes sharing blog posts easy as social media channels including LinkedIn easily pull images and content to create rich snippets. For more information on Kommand website builder please visit our website.
---